Skip to Content
What Is Delta 8 THC?
Users that want a less intense high while suppressing anxiety may want to try delta-8 products. Delta-8 THC is not as potent as its sister cannabinoid Delta- 9, but it does still produce a mild high. The euphoric feeling produced tends to be less intense than what might be experienced with Delta-9 THC, and you may experience a more clear-headed and energetic result. Utilizing CBD with Delta-8 THC will further decrease any mind-altering effects experienced by the user. Some users suggest that delta-8 THC is a much calmer high and does not make them paranoid or disoriented, which can often occur with delta-9 THC. Delta 8 will not produce the loss of focus that is characteristic of Delta 9. D8 THC binds to the same receptors, but it is less potent, and twice as effective as an anti-nausea cannabinoid when compared to delta-9 THC. Many users will find that Delta 8 makes them feel more uplifted and motivated. If you have never experienced any form of THC directly, you may want to start small to gauge how it affects you.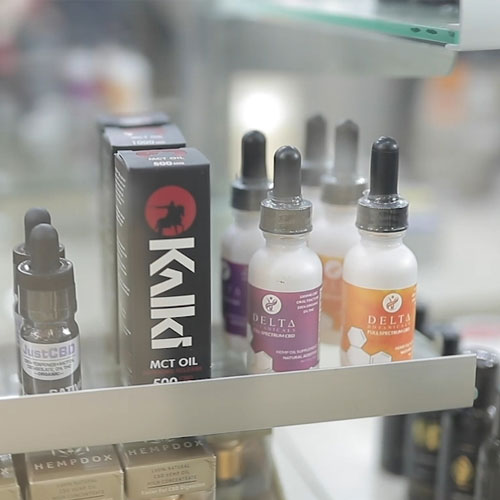 It Is Sort of a Middle Ground Between Hemp, CBD, and THC-Delta-9
Peter Grinspoon is a primary care physician at Harvard Medical School. He's also on the board of the advocacy group, Doctors for Cannabis Regulation. He tells Inverse that Delta-8-THC does have "vast" potential, as do many of the less-famous cannabinoids. "I'm really excited to see what we come up with when we start breeding up, in evaluating all these different cannabinoids," he tells Inverse. "I think Delta-8-THC is a perfect example."
Delta-8 THC is a powerful cannabinoid native to the cannabis flower. Delta-8-THC is an isomer of CBD, which is a derivative of hemp and CBD, a cannabinoid found in hemp, and is found in our products with less than 0.3% Delta-9-THC. In other words, Delta 8 THC is sort of a middle ground between hemp, CBD, and THC-Delta-9.
According to the National Cancer Institute, What Is Delta-8 THC
According to The National Cancer Institute, Delta-8 THC is defined as "an analog of tetrahydrocannabinol (THC) with antiemetic, anxiolytic, appetite-stimulating, analgesic, and neuroprotective properties." They also stated that "this agent exhibits a lower psychotropic potency than Delta-9-tetrahydrocannabinol (Delta-9-THC), the primary form of THC found in cannabis."