Skip to Content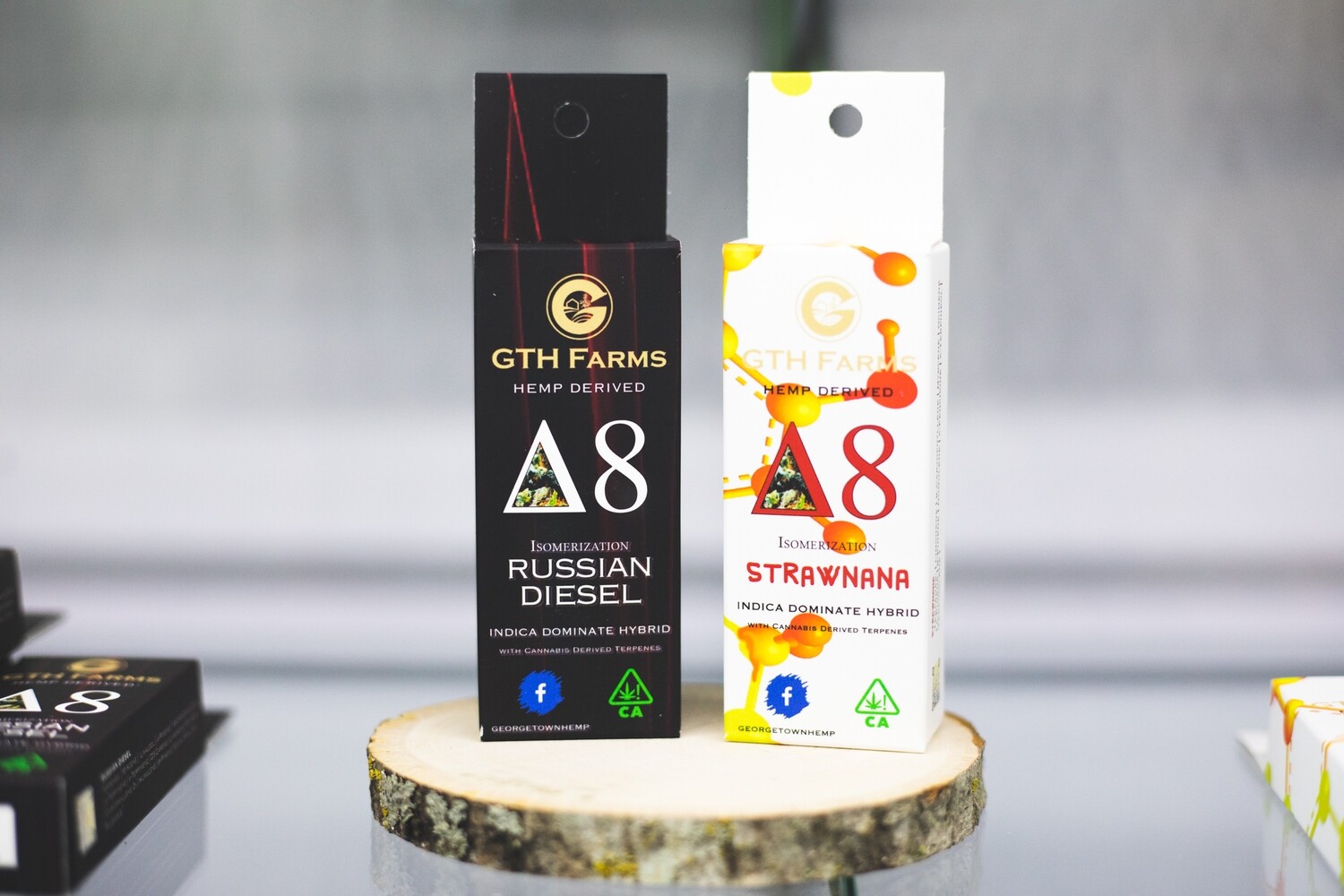 Hemp-Derived Delta 8 Vape Carts by GTH Farms
Product Details
▲ 8 PRODUCTS CANNOT BE SHIPPED TO THE FOLLOWING STATES - Alaska, Arizona, Arkansas, Colorado, Delaware, Idaho, Iowa, Mississippi, Montana, Rhode Island, and Utah
Our new Hemp-Derived 100% Federally Legal Delta 8 Vape Carts by GTH Farms are quickly becoming our Top Selling product! These vape cartridges are 93% Delta 8 and come in 7 strains with plenty of variety between indica, sativa, and hybrids!
What makes our Delta 8 Carts the best on the market?
*93% ▲
*Less than 0.3% ▲9 THC
*Full Gram
*Strain Specific
*Real Cannabis Terpenes
*3rd Party Lab Tested
*No PG/VG or Vitamin E Acetate
*Non-synthetic Isomerization
*2018 Farm Bill Compliant Tested in a DEA Registered Lab
Our Delta 8 THC vape cartridge is legal according to federal law and many state laws. Our Delta 8 THC extract is 100% derived from legal hemp and does not contain more than 0.3% ∆9THC. However, we do not guarantee that this product is legal in your state or territory and it is up to you to determine that. Embrace CBD retains the right to not ship to any states or territories where local laws conflict with H.R. 2: The Agricultural Improvement Act of 2018, also known as the 2018 Farm Bill. Embrace CBD is not responsible for knowing whether this product is legal in your state or territory and you assume full responsibility for all parts pertaining to your purchase.
Legality of Delta 8 THC.
SEC. 12619. CONFORMING CHANGES TO CONTROLLED SUBSTANCES ACT.(a) IN GENERAL.—Section 102(16) of the Controlled Substances Act (21 U.S.C. 802(16)) is amended—(1) by striking ''(16) The'' and inerting ''(16)(A) Subject to subparagraph (B), the''; and(2) by striking ''Such term does not include the'' and inserting the following:''(B) The term 'marihuana' does not include—''(i) hemp, as defined in section 297A of the Agricultural Marketing Act of 1946; or''(ii) the''. (b) TETRAHYDROCANNABINOL.—Schedule I, as set forth in section 202(c) of the Controlled Substances Act (21 U.S.C. 812(c)), is amended in subsection(c)(17) by inserting after ''Tetrahydrocannabinols'' the following: '', except for tetrahydrocannabinols in hemp (as defined under section 297A of the Agricultural Marketing Act of 1946)''.
AGRICULTURE IMPROVEMENT ACT OF 2018 - SUBTITLE G—HEMP PRODUCTION.SEC. 297A. DEFINITIONS.(1) HEMP.—The term 'hemp' means the plant Cannabis sativa L. and any part of that plant, including the seeds thereof and all derivatives, extracts, cannabinoids, isomers, acids, salts, and salts of isomers, whether growing or not, with a delta9 tetrahydrocannabinol concentration of not more than 0.3 percent on a dry weight basis.
$45.00
Buy Product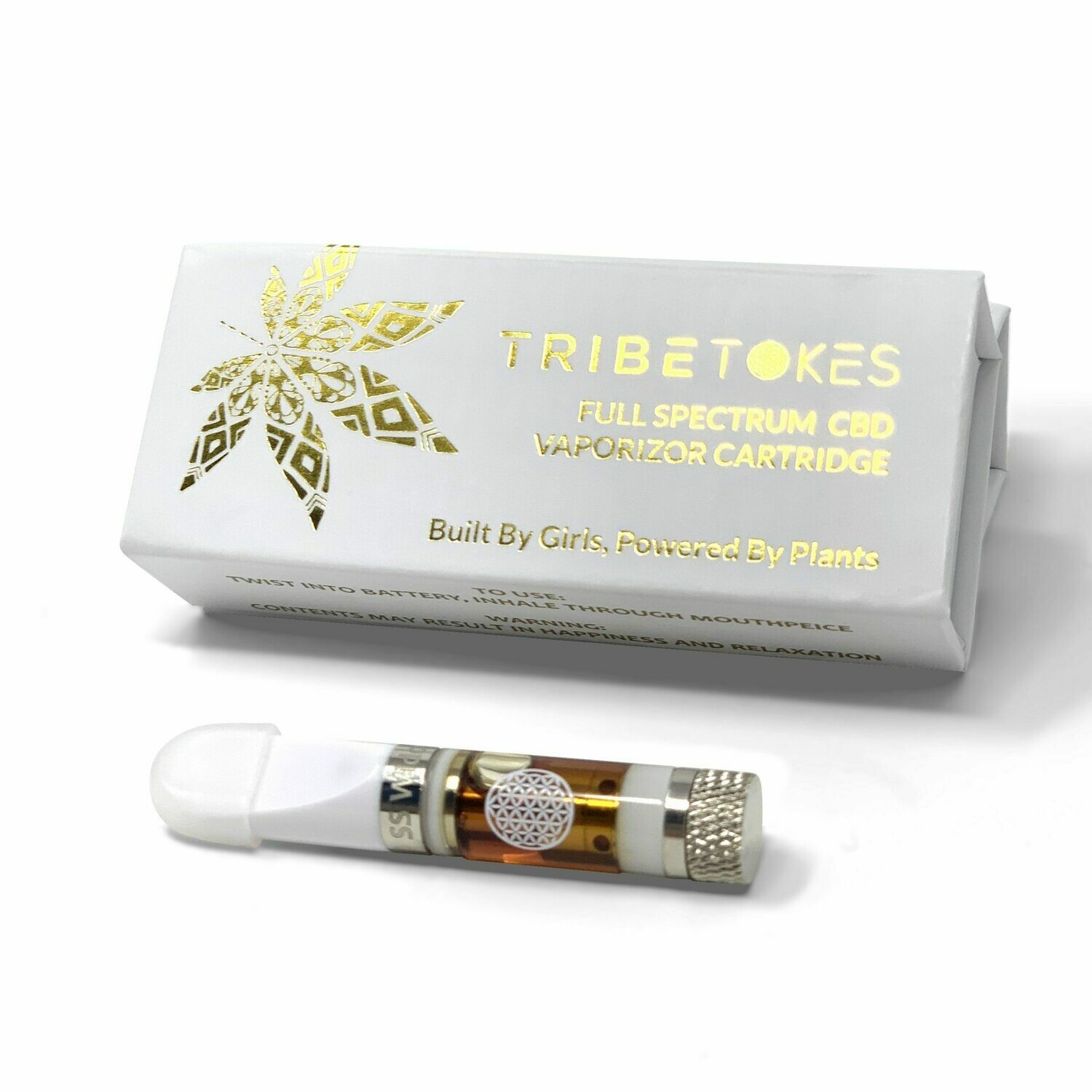 TribeTokes Full Spectrum CBD Vape Cartridges
Product Details
1ML Cartridge
We noticed that most CBD vape oil on the market is cut with MCT oil or other additives that are no bueno for your lungs, and we wanted to do better. Our vapes have only 2 ingredients – full spectrum CBD distillate and natural plant terpenes – for a subtle, satisfying taste and the "entourage effect" benefits of indica, sativa and hybrids.
$55.00
Buy Product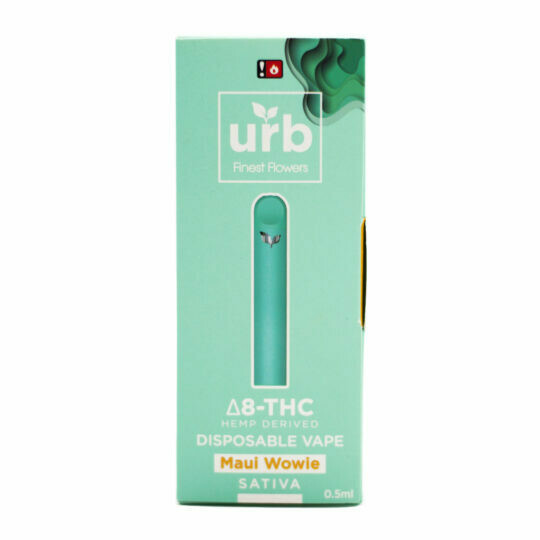 8 Disposable Vape
Product Details
▲8 PRODUCTS CANNOT BE SHIPPED TO THE FOLLOWING STATES - Alaska, Arizona, Arkansas, Colorado, Delaware, Idaho, Iowa, Mississippi, Montana, Rhode Island, and Utah
The new Urb Delta 8 THC Disposable is a custom device with 420mA battery and retrofitted with completely dialed in and tested airflow to ensure the best temperature, flavor, and no clogging.
500mg ▲8
Ekto Kooler – Hybrid
Maui Wowie – Sativa
Pink Cookies – Indica
Ceramic Coil Cartridge
No PG, No VG, NO Vitamin E Acetate
10mg delta-10 in each disposable
$29.99
Buy Product